As part of the Riivos Mortgage team, I attended the Mortgage Bankers Association's Independent Mortgage Bankers Conference last week in San Francisco. Billed as the largest annual gathering of IMB leaders in the nation, the conference is designed to provide a forum for mortgage originators and servicers to discuss and find solutions to common business challenges.
Throughout the three-day conference, I consistently heard snippets of conversations that sounded something like this:
"Discipline, compression, right-sizing, planning.
Servicing, liquidity, servicing, liquidity.
Tech, tech, tech, tech."
Today's IMBs are Determined

Independent mortgage bankers are a resilient group. Many have been in the industry for a very long time and have seen their share of good times and bad. And while there are several concerns facing the industry (as there always seem to be) the overall tone was not one of doom and gloom, but rather of camaraderie and steadfast determination.
Those who survived the housing and mortgage market crash of 2007-08 have seen difficult times and know that this business is cyclical, so they take the ups and down in stride looking for solutions rather than succumbing to defeat. And the relative newcomers (post 2008) think technology will cure all woes.
Key Takeaways for the Future

I observed five key takeaways that those looking to the future are putting into play:
While it's inevitable that the big will get bigger, you can still make money if they have visibility into your value chain.  Focus on what you do well and exit in time from what you don't do well.
Tweak your business drivers to improve efficiencies and profitability regardless of how interest rates and margins move. Long term viability counts; don't borrow your way to success.
Avoid the protectionist scarcity mindset, plan for and invest in strategic growth, find the scenario that balances those things over which you have control, to stay liquid and be profitable.
Are agencies friend or foe? Is stress testing a blessing or a curse? And what, exactly, is Ginnie Mae planning for 2020? There will always be regulatory requirements to contend with, but regular self-imposed stress testing via scenario analysis will not only keep your business healthy but can prepare you for anything the agencies may throw your way.
Digitalization is here to stay and will continue to change the value chain going forward. Don't put your head in the sand! Look to technologies that can provide optimization in those areas where you will achieve the biggest improvements.
Have You Ever Seen a P&L Like This?

On day two of the conference as part of the general session featuring technology innovations in the mortgage lifecycle, a colleague and I were invited to present a 10-minute demo of the Riivos Mortgage Lending application to an audience of senior executives. The reaction to our value chain method of displaying a P&L was immediate and overwhelmingly positive. One mortgage originator CEO who found me after the session said, "I've never seen a P&L that way, can you give me a view of my cash as well?" Yes, we can!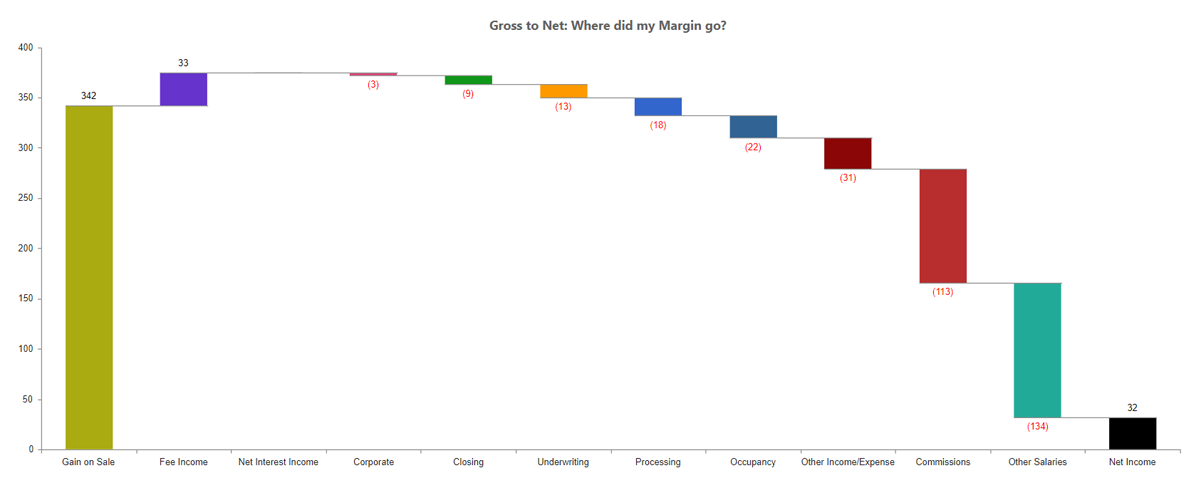 Mortgage Industry Strong

Overall, it was great to be part of this conference alongside like-minded and innovative people all doing our part to help fortify the mortgage industry so that more and more Americans can take part in the dream of owning their own homes.
If you're not sure about the value of investing in strategic planning and technology, preparing for stress testing, or using technology to find new sources of profitability, please feel free to reach out. At Riivos, we're helping mortgage businesses with exactly these kind of questions every day. Riivos.com/mortgage